Abstract
Background:
Through this research, Lunit is seeking to understand how the needs of breast cancer patient caregivers differ from those of patients. Moreover, we seek to gain insights into the potential impact of fulfilling such needs for caregivers through remote nurse support that can provide evidence-based information.
Methods:
We asked 330 breast cancer patients and 53 caregivers to participate in an online survey in Korea from 10/2021- 11/2021 to understand various needs throughout their cancer journey. Eight breast cancer patients and caregivers asked 25 questions through a remote nurse support model. Interactions took place either via phone or text, starting 12/20/2021 and is ongoing. The answers to asked questions were drafted by nurses and reviewed by a team of medical doctors to ensure delivery of clinically sound information.
Results:
While the top areas needing support during the entire cancer journey (prior, during, post treatment) were generally consistent for both caregivers and patients, caregivers showed a pronounced need for support that would help make treatment decisions specifically during the pre-treatment phase. (See table below) This difference was also reflected in the distribution of questions asked during the remote nurse support service. Caregivers asked questions about treatment options that required significant clinical knowledge to answer. In contrast, questions from patients were concentrated in understanding their cancer and in seeking dietary recommendations to keep their cancer at bay.
Conclusions:
We observed early evidence that improving access to evidence-based information for caregivers will not only contribute to improved outcomes for the patient but also have a positive impact on the well-being of caregivers, which again in turn is expected to have a positive impact on the patient.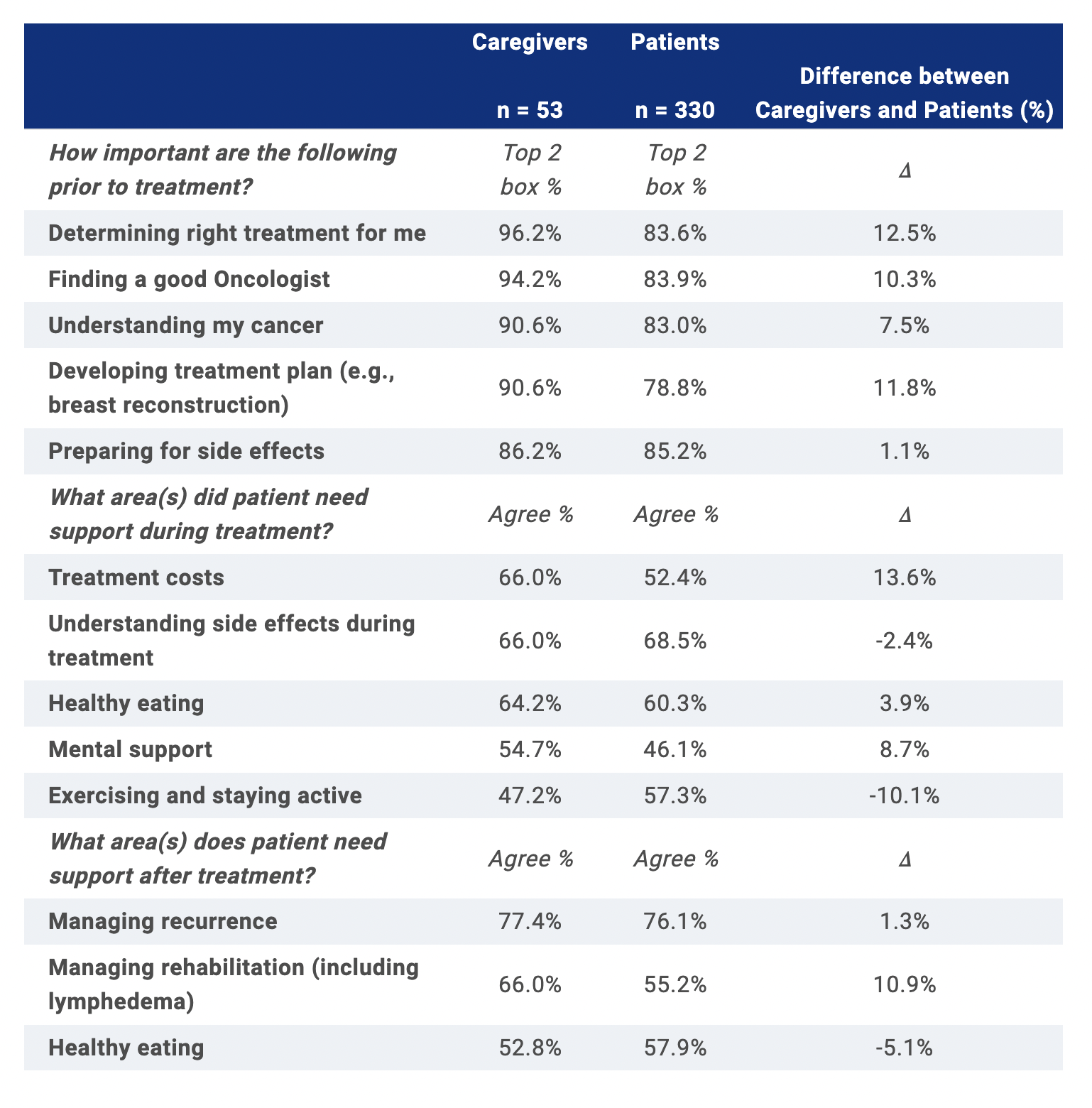 Download