Lunit's AI-powered biomarker platform 'Lunit SCOPE' shows association between spatial distribution of immune cells and genomic profile

Lunit to present in AACR for three consecutive years from 2019: "Our AI can bring a new paradigm in the field of cancer treatment"
Lunit will present three abstracts featuring its AI research on cancer treatment at the upcoming American Association for Cancer Research (AACR) Annual Meeting 2021. Due to the current COVID-19 pandemic, the meeting will be held online from April 10-15 and May 17-21.
Lunit has been showcasing its findings at AACR since 2019. The studies mainly focus on developing a new AI biomarker that can be applied in cancer treatment. With its proprietary deep learning algorithm, the company is developing an AI-powered biomarker platform called 'Lunit SCOPE IO'. The platform analyzes cancer patients' tissue slide images and predicts response to immunotherapy.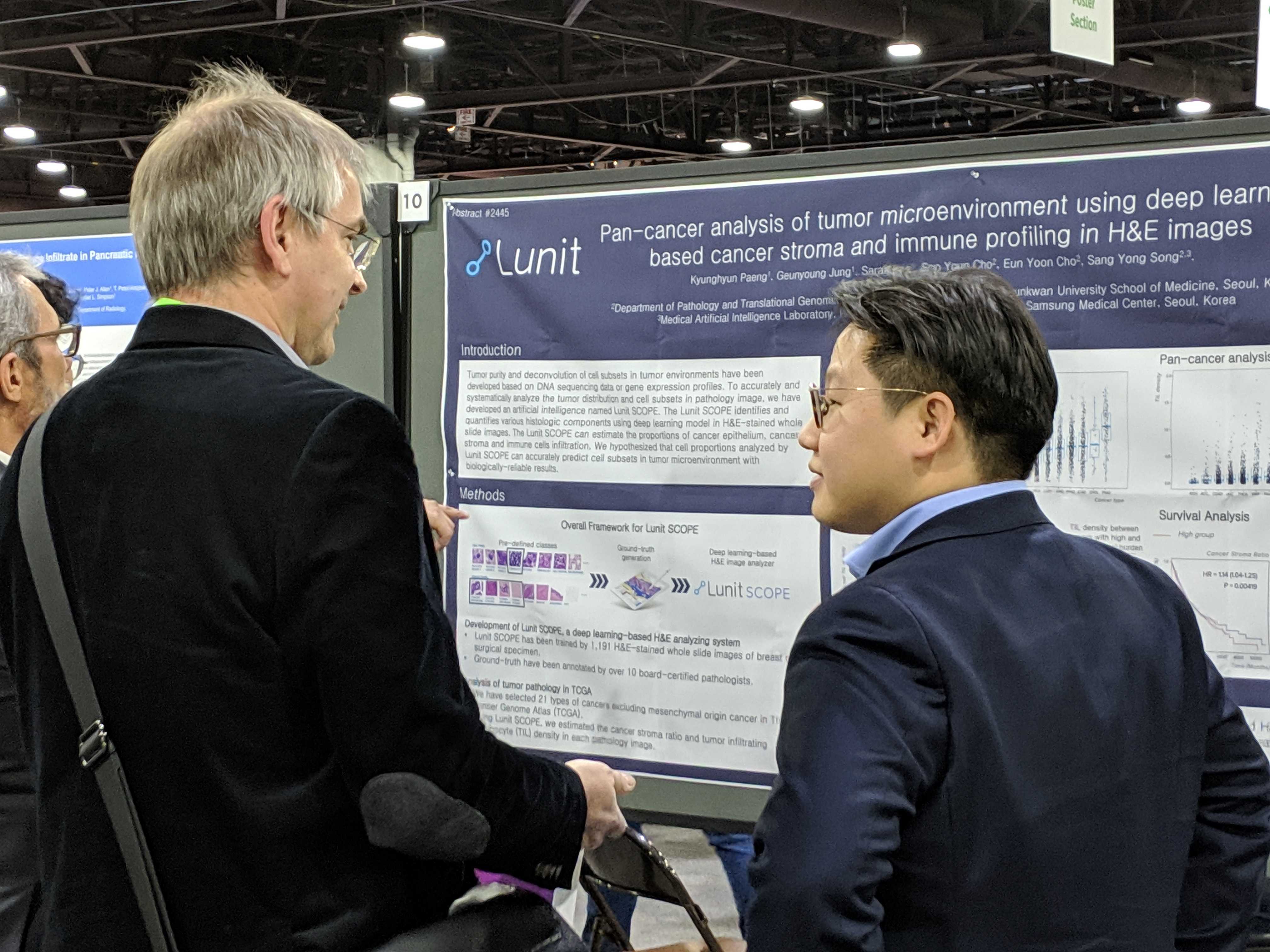 Download

▲ Lunit's poster session at AACR 2019
Lunit SCOPE IO analyzes a patient's cancer tissue slide image by observing the distribution of tumor-infiltrating lymphocytes (TIL), one of the representative immune cells, and accurately classifies the result into three immune phenotypes (3-IP; inflamed, excluded, desert). So far, Lunit's research shows that when such AI-based classification is used with the current biomarker, PD-L1, it is possible to predict the treatment response of immunotherapy with enhanced accuracy, demonstrating the effectiveness of the new AI biomarker.
During the poster sessions, Lunit will present the association between 3-IP classification and genomic profile in pan-carcinoma, as well as prediction of molecular subtypes in endometrial cancer.
For the 3-IP classification study, the team analyzed TCGA data, known to be the best established dataset among cancer genome public databases. Upon analyzing more than 7,000 data of 20 carcinomas with AI, the research team found that plausible immune intrinsic resistance pathways are highly enriched in 'immune-excluded' phenotype, suggesting that the spatial analysis of TIL immune cells can be important in understanding patient response to immunotherapy.
"The studies prove the association between the spatial distribution of immune cells and genomic profile," said Chanyoung Ok, Chief Medical Officer of Lunit, who led the studies. Through the 3-IP classification using Lunit AI, it predicts the carcinoma that requires more sophisticated and accurate treatment and suggests the possibility of providing customized treatment to patients."
Along with the endometrial cancer subtype study that once again supports the importance of TIL analysis in providing treatment insight, Lunit will also share a study suggesting that chest CT image analysis can be useful in estimating high-grade histologic patterns of lung adenocarcinoma, predicting clinical outcomes of patients with advanced lung cancer.
"The presence of high-grade histologic patterns in patients with lung adenocarcinoma is known to have a poor prognosis," said Kyunghyun Paeng, Chief Product Officer of Lunit. "However, since it is difficult to determine the histologic pattern of the entire tumor with a small biopsy sample, there is a growing need for non-invasive biomarkers. This study suggests the possibility of Lunit AI to use CT image to recognize the pattern of a larger tumor area."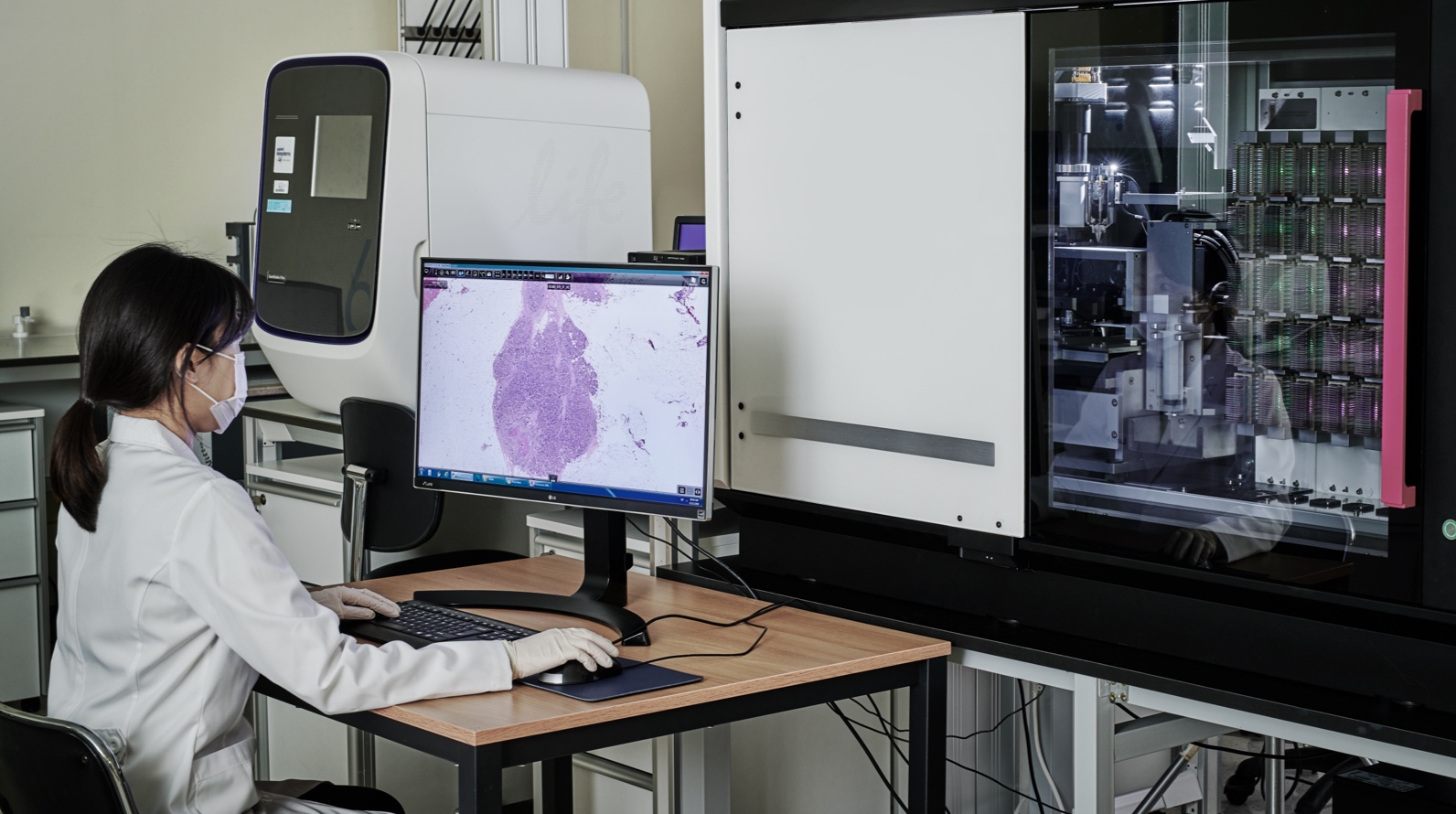 Download

▲ A researcher is analyzing the tissue slide with Lunit SCOPE IO
Lunit's research was conducted in collaboration with Seoul National University Bundang Hospital and Samsung Medical Center. A world-renowned medical oncologist, Dr. Tony Mok, also an adviser at Lunit, participated in the study.
"Studies with top experts in the field are of great significance for the analysis of reliable data to derive meaningful results," said Brandon Suh, CEO of Lunit. "We will continuously conduct further research and develop our platform so that Lunit AI can bring a new paradigm in the field of cancer treatment."
Lunit Abstract Information at AACR 2021
Virtual Meeting: E-Posters
April 10, 2021 8:30 AM - 11:59 PM
Title: Artificial intelligence-powered spatial analysis of tumor-infiltrating lymphocytes reveals distinct genomic profile of immune excluded phenotype in pan-carcinoma
Session PO.IM01.09 - Tumor-Induced Immune Suppression: Intrinsic and Extrinsic Factors
Title: Artificial intelligence-powered tissue analysis reveals distinct tumor-infiltrating lymphocyte profile as a potential biomarker of molecular subtypes in endometrial cancer
Session PO.CL01.04 - Molecular Classification of Tumors / Tumor Staging
Title: Deep learning based radiomic biomarker for predicting the presence of high-grade histologic patterns in lung adenocarcinoma
Session PO.CL01.01 - Clinical, Functional, and Molecular Imaging / Radiomics