Download
AI Showcase, Level 2, Booth #10732
Lunit, a leading medical AI software company devoted to providing AI-powered total cancer care, will be returning to the 105th Radiological Society of North America (RSNA) this year with the latest, up-to-date AI solutions for chest and breast radiology. The state-of-the-art software—Lunit INSIGHT CXR 3 and Lunit INSIGHT MMG—will be available for demonstration at Lunit booth, which will be located on AI Showcase floor, #10732.
For media interviews, simply reply or send an email to Jussarang Lee, Communications Manager at julee@lunit.io for a face-to-face meeting with an executive from Lunit.
Presenting 7 Abstracts
During RSNA 2019, Lunit will present key clinical study results conducted to validate the specific clinical utility of its products, along with other abstracts that study AI-driven mammography & DBT, and AI-based detection of chest abnormalities such as pneumothorax and tuberculosis. Lunit is one of the few companies in the industry that highlights evidence-based studies and publications.
*Search "Lunit" in RSNA meeting program to read our abstracts.

Product Demonstrations
Lunit INSIGHT CXR and Lunit INSIGHT MMG, Lunit's most mature products tested on more than 3 million images from over 80 countries combined, will also be presented for demo. These software products, now installed and in use at hospitals and other medical institutions around Mexico, UAE, China, and South Korea, has been receiving positive comments and feedback from its users, especially for its outstanding accuracy at 97-99% in the detection of lung abnormalities and breast cancer, signaling a successful takeoff for commercialization.
*If you have a DICOM file, give yourself a try on our AI through an online demo, here.
CEO Presentation at AI Theater
On Tuesday, 3 Dec 10:30 am, Brandon Suh, CEO of Lunit, will be on stage at AI Theater to give a presentation about the most recent activities and product developments of the company. Titled, "AI-powered Precision Diagnostics - Beyond Expert Level Imaging Biomarkers for Chest and Breast Imaging," Dr. Suh will present how Lunit thrives to expand the boundaries of AI-driven medical image analysis and how Lunit's AI solutions present a new paradigm of AI-assisted radiology workflow.
*If you would like to book a media interview with our CEO, contact julee@lunit.io.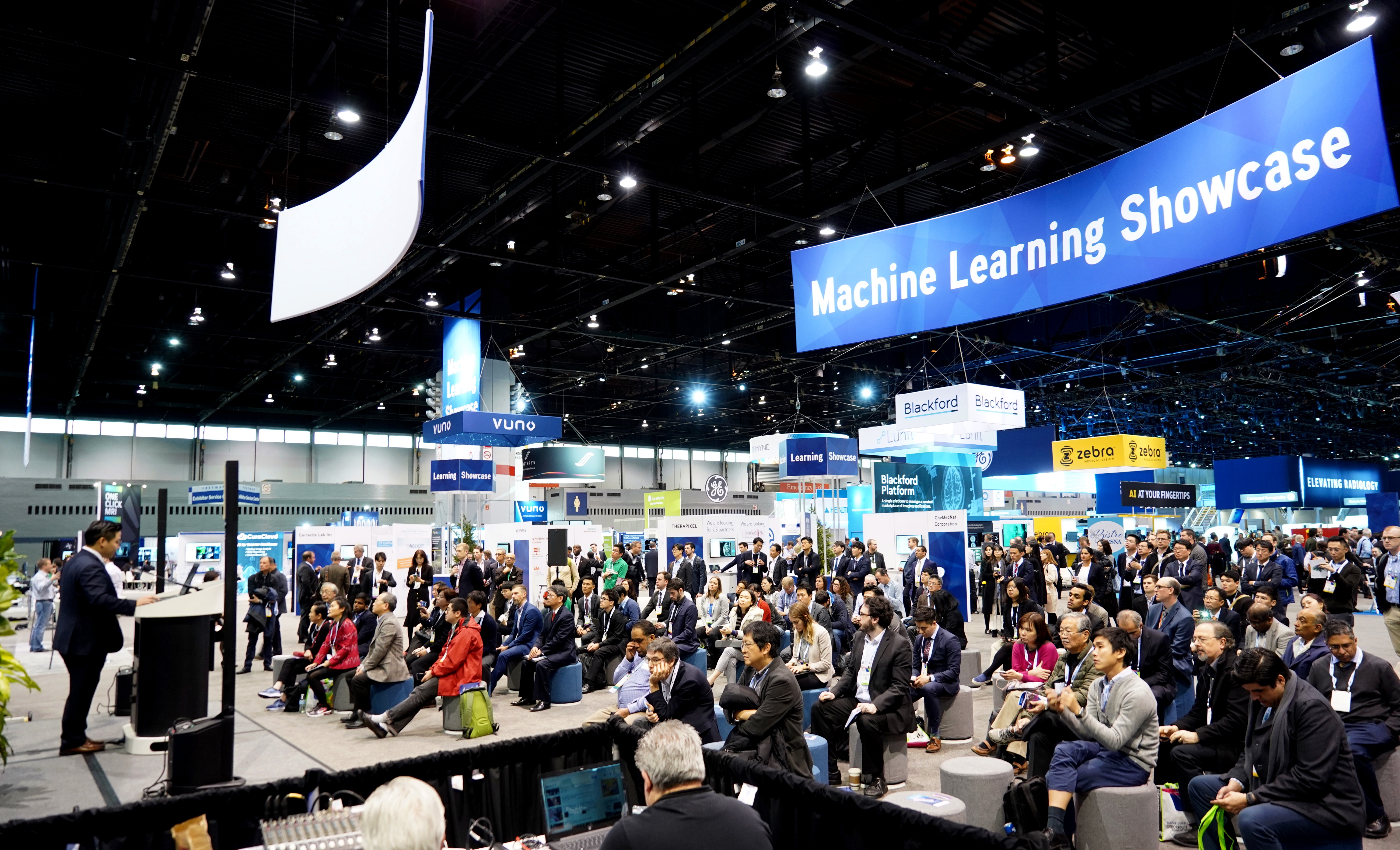 Download
Brandon Suh, CEO of Lunit, presenting at RSNA 2018

Lunit Booth
Where: AI Showcase, Level 2, Booth #10732
When: 1-6 Dec 2019, 10:00 am to 5:00 pm daily (except 6 Dec: until 2:00 pm)