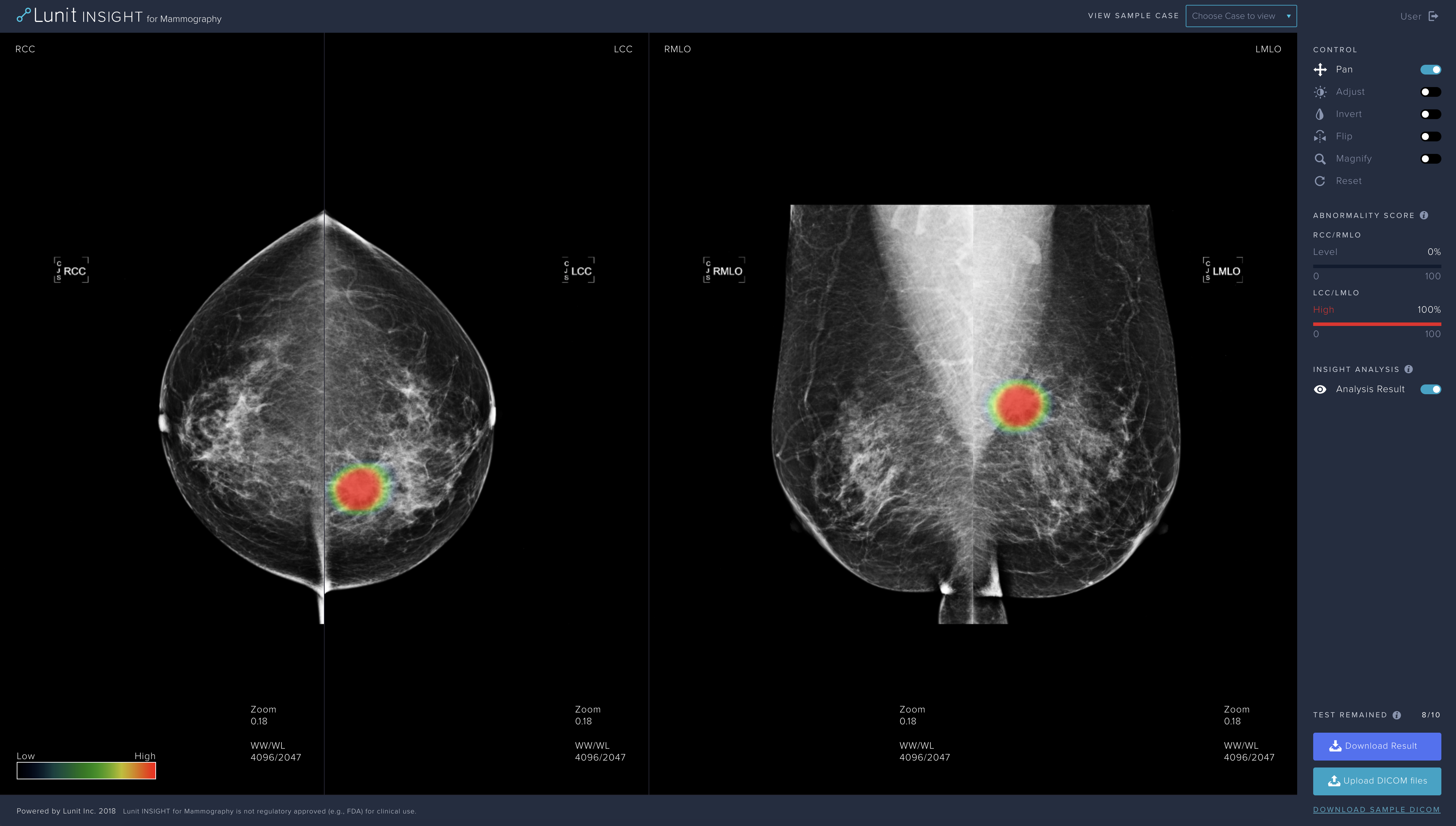 Download
Lunit has announced Korea MFDS (Ministry of Food and Drug Safety) approval of its AI solution for breast cancer, Lunit INSIGHT MMG. The medical software has been approved on July 29th, which marks a second approval of its AI solution by Korea MFDS since last year, when Lunit had gained initial regulatory clearance of its AI software.
Lunit INSIGHT MMG, which is now available for domestic sales in Korea, runs on Lunit's proprietary AI technology, co-developed with prestigious Korean medical institutions--Yonsei Severance Hospital, Asan Medical Center, and Samsung Medical Center.
The software analyzes mammography images, with an indication of the location of lesions suspicious for breast cancer and an abnormality score of the detected lesion.
"Mammography is not easy to diagnose," said Brandon Suh, CEO of Lunit. "Breast cancer is one of the most common female cancer, taking up to 24% of all female cancer cases. Among the patients suspicious of breast cancer after screening mammography, only 29% is actually diagnosed with cancer after biopsy."
"With AI, we would like to increase the effectiveness of mammography screening and reduce unnecessary biopsies," added Suh. "Lunit INSIGHT will improve the diagnosis accuracy of radiologists and decrease unnecessary recalls."
According to the company, the algorithm is designed to assist prompt and accurate diagnosis of physicians, by showing only malignant lesion and automatically ignoring benign lesion. It has been trained with over 200,000 mammography cases, which includes 50,000 breast cancer cases.
"High false positive rate has been a major problem of CAD (Computer Aided Detection) software," said Hyo-Eun Kim, Head of Breast Radiology at Lunit. "To overcome this problem, our software has been developed to distinguish benign and malignant lesion with high accuracy. The MFDS clinical trials had shown that Lunit INSIGHT MMG can significantly improve the diagnostic accuracy of radiologists."
Lunit provides an online demo (https://insight.lunit.io) for users to test the performance of its software. "Anyone can try using our algorithm through this website," said Minhong Jang, CBO of Lunit. "With Lunit INSIGHT MMG, breast cancer can be diagnosed earlier. It will also reduce the burden of patients due to unnecessary additional tests."
The company had previously received MFDS clearance last year in August for its AI solution for chest x-ray. The software is currently being used at multiple hospitals and medical examination centers throughout the country, including Seoul National University Hospital.