Lunit, a leading medical AI startup that develops AI-powered diagnostic and therapeutic imaging biomarkers, today announced that two abstracts showcasing findings from its AI pathology research portfolio will be presented at the upcoming American Association for Cancer Research (AACR) Annual Meeting 2019. The meeting will be held March 29 – April 3, 2019, at the Georgia World Congress Center in Atlanta, Georgia.
The accepted abstracts feature results derived from AI analysis of diverse cancer types and also demonstrate how AI-powered identification/quantification of cancer tissue based on H&E-stained histology images, can be a potential prognostic & predictive biomarker for breast cancer. In one of the abstracts, high-risk patients, classified by Lunit's AI, were around 5-times more likely to die than low-risk patients, based on overall survival. More remarkably, high-risk patients were 3 to 5-fold more likely to respond to adjuvant chemotherapy, based on disease-free survival and overall survival, respectively. These abstracts will be presented during AACR poster sessions on Monday and Tuesday, 1-2 April.
"In our journey of developing predictive biomarkers for lung and breast cancer, these abstracts mark the successful completion of the first phase of our research," said Brandon Suh, CEO of Lunit. "Our research marks a meaningful milestone in cancer research aided by artificial intelligence. We look forward to accelerating our research and development in AI analysis of cancer tissues through various research partnerships."
Lunit's AI research in the field of pathology has been recognized to be world-leading in various occasions, ranked world #1 in both MICCAI TUPAC Challenge 2016 and CAMELYON 2017, ahead of competition like Microsoft and IBM.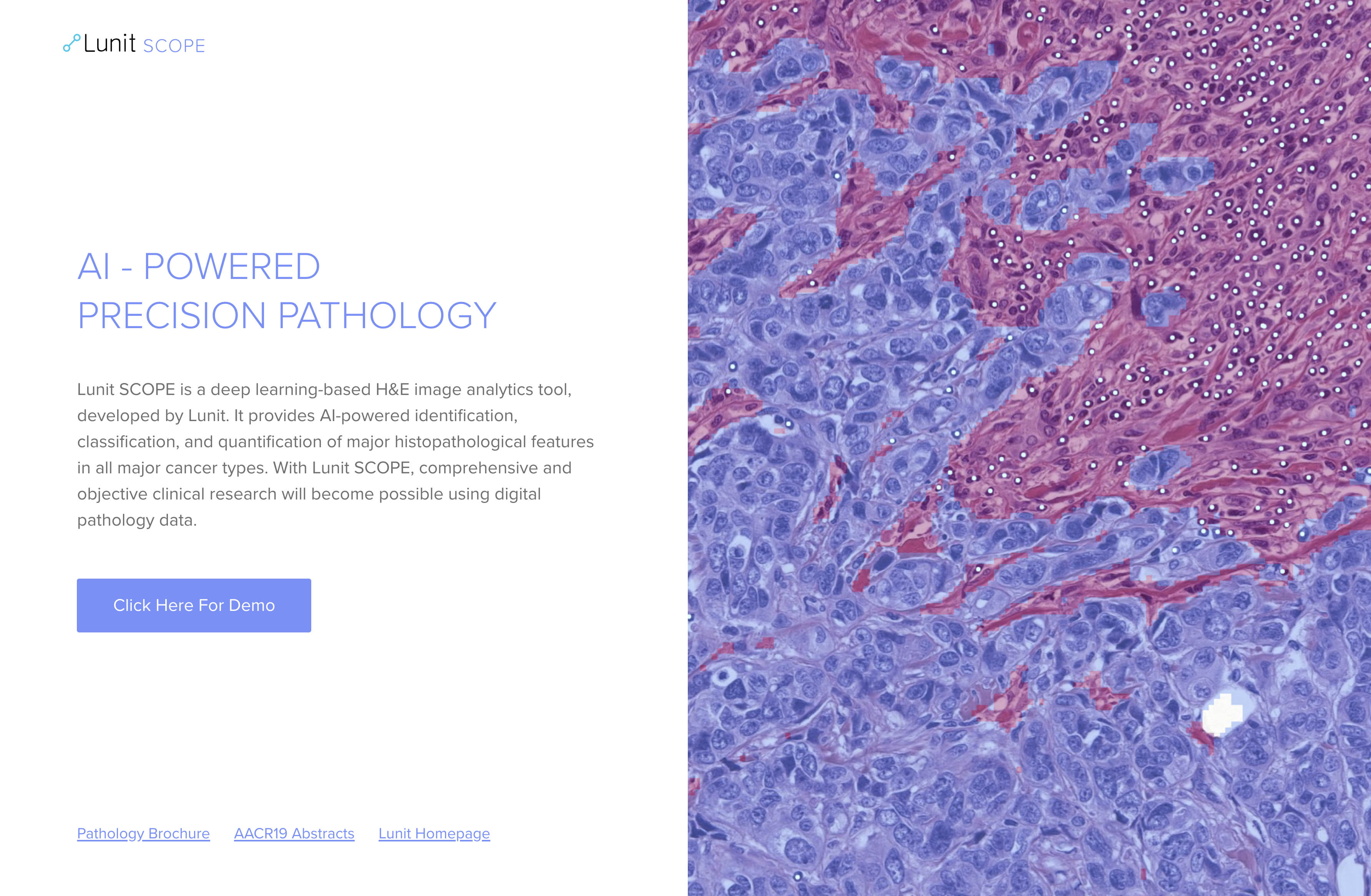 Download
According to Lunit, the company had employed an AI software, Lunit SCOPE, a deep learning-based H&E image analyzing tool that had been vital in the AI analysis of cancer tissues and the study itself. Lunit SCOPE will be available for demonstration during AACR, at Lunit booth #1744. An online demonstration is available at https://scope.lunit.io/ (Runs on Chrome Web Browser only)
"One of the most impressive results from our study is that an AI analysis of H&E stained slide images showed great potential in the prediction of response to adjuvant chemotherapy in breast cancer," said Kyunghyun Paeng, Head of Precision Pathology at Lunit. "We are particularly excited about this finding, as it signals the beginning of our second phase of research, moving closer to developing predictive biomarkers in lung and breast cancer. We welcome research partners to join forces with us in this development."