Lunit INSIGHT Breast MMG expected to get regulatory approvals beginning July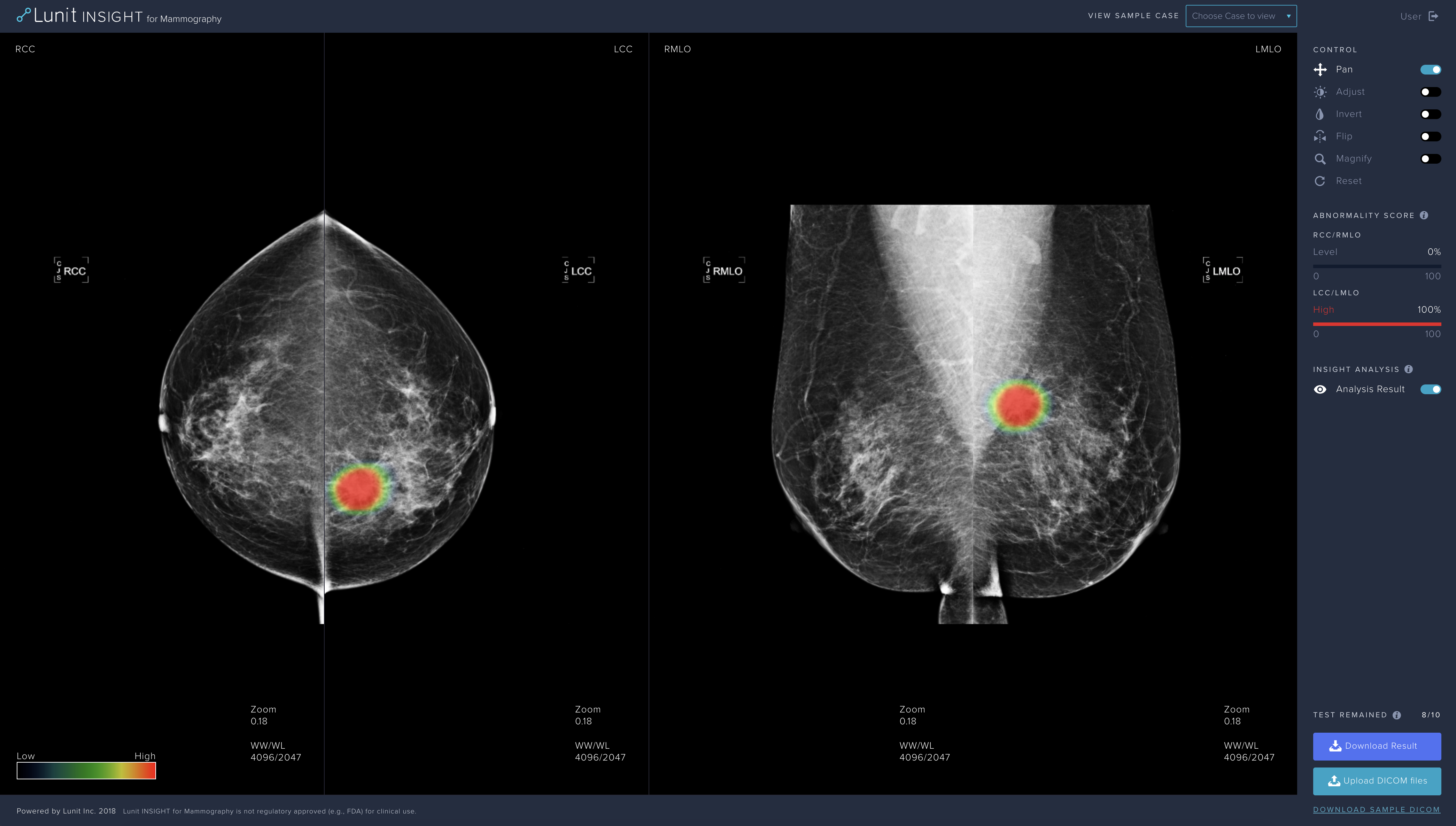 Download
Seoul, Korea—Lunit, a leading medical AI startup that provides AI solutions for radiology and pathology, announced today its attendance at the Society of Breast Imaging (SBI) 2019, scheduled to showcase its latest product for breast cancer detection, Lunit INSIGHT for Mammography.
According to Lunit, the product is soon to be available for commercial sales, as the company is expecting to gain regulatory approvals in different regions, beginning this July.
"We are very much excited about the imminent regulatory clearance for our AI solution for mammography, which will happen as early as July," said Brandon Suh, CEO of Lunit. "We are looking forward to Korea Ministry of Food and Drug Safety (MFDS) approval by July, followed by CE approval by September and FDA approval by early 2020."
Lunit INSIGHT for Mammography was first revealed during RSNA 2018, presenting an unprecedented level of accuracy in the detection of breast cancer, at 97%. "While breast cancer takes up 25% of entire cancer cases, the accuracy of screening mammography is low by 32%," said Suh. "False negative rates range from 10-30% and false positive rates are even higher at around 95%. This costs over 4 billion US dollars for unnecessary recalls in the United States alone. We target to reduce this cost by pulling more accurate information from cheap and accessible basic tests, being able to utilize these as clinically actionable information that can increase efficiency in diagnostics."
Lunit INSIGHT for Mammography will be available for demonstration at booth #402 during SBI 2019, which will be held from 4-7 April at Hollywood, Florida.
Lunit is also developing a more sophisticated AI solution for Digital Breast Tomosynthesis (DBT), which has been demonstrated by various large-scale studies to be superior to mammography in terms of breast cancer screening performance.
"While our AI solution for mammography is now headed for commercial release, we are continuing our research and development for other modalities to meet greater needs in breast cancer detection," said Hyo Eun Kim, Head of Breast Radiography at Lunit. "We are using our experience in mammography research to develop a highly accurate diagnostic algorithm for breast cancer detection in DBT."
The first product release by Lunit—an AI solution for chest radiography—which had acquired Korea MFDS approval in August 2018, is currently available for clinical use in Korea. It has customers ranging from Seoul National University Hospital, one of the largest medical center in Korea, to small and large medical examination centers in the country. It is also currently used in hospitals in Mexico and UAE.