Two companies join forces to make AI algorithms from Lunit INSIGHT CXR available through GE Healthcare's Thoracic Care Suite, helping alleviate clinical strain among radiologists and improve patient outcomes
Collaboration to integrate Lunit's INSIGHT CXR with GE Healthcare's Centricity PACS to help improve clinicians' workflow
Lunit, a leading medical AI startup, today announced the expansion of its collaboration with GE Healthcare. This collaboration between GE Healthcare and Lunit will help make AI algorithms more accessible to clinicians, alleviate clinical strain and streamline workflows – supporting better patient outcomes.
GE Healthcare recently introduced its Thoracic Care Suite featuring a collection of eight artificial intelligence (AI) algorithms from Lunit INSIGHT CXR[1]. The AI Suite quickly analyzes chest x-ray findings and flags abnormalities to radiologists for review, including pneumonia, which may be indicative of COVID-19 as well as tuberculosis, lung nodules, and other radiological findings.
This collaboration between GE Healthcare and Lunit is one of the first of its kind to bring commercially available AI products from a medical AI startup to an existing X-ray equipment manufacturer – making Lunit INSIGHT CXR available via Thoracic Care Suite to GE Healthcare's thousands of global fixed, mobile, and R&F x-ray customers at point of sale.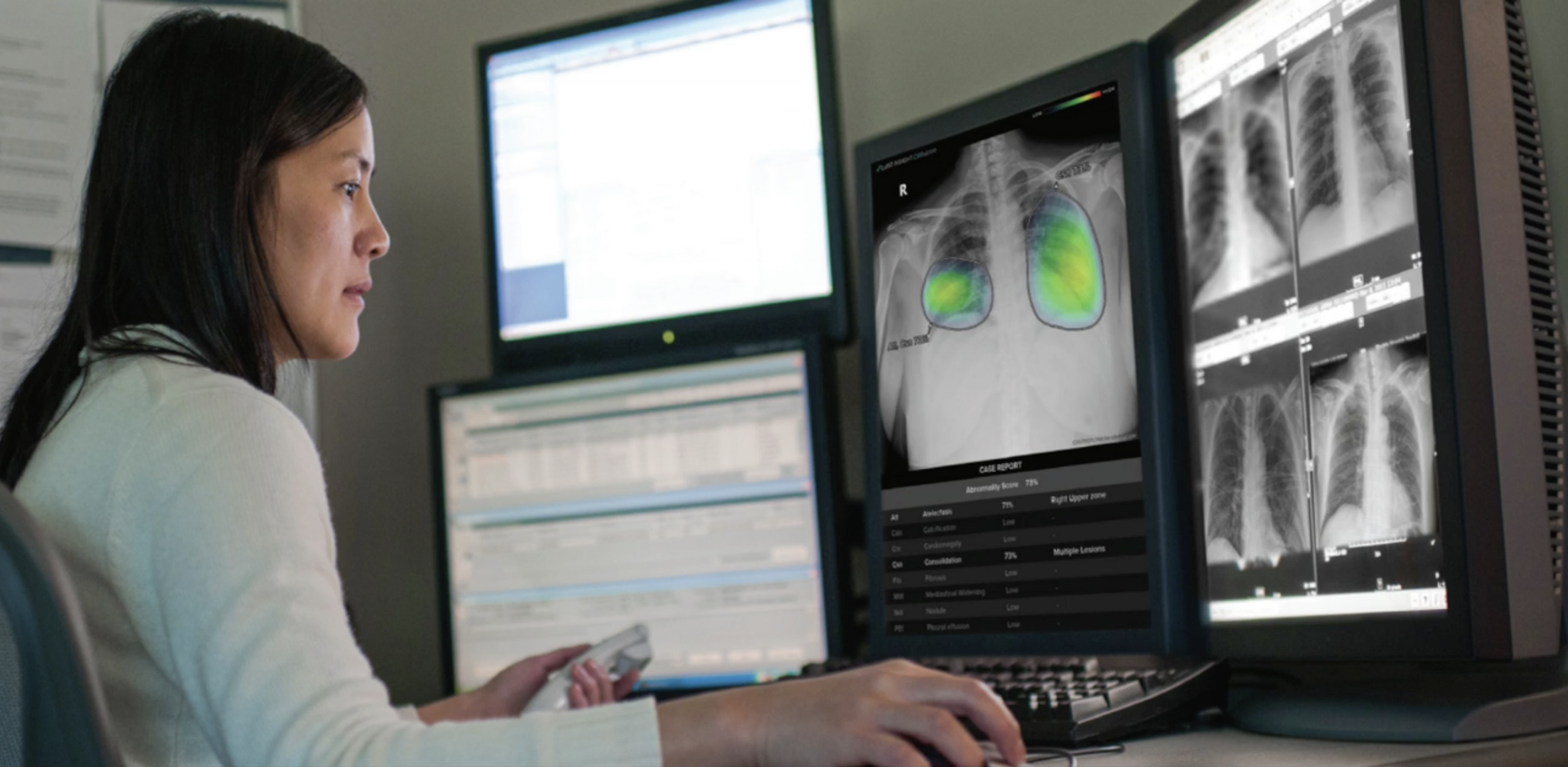 Download
"As a startup company, our vision is to have AI to be recognized as the new standard of care," says Brandon Suh, CEO of Lunit. "We have been applying our AI into various types of medical images. Among them, Lunit INSIGHT CXR is one of our major products that has been commercialized since a few years ago. To have our AI made available with a market-leading vendor like GE Healthcare – especially as part of the Thoracic Care Suite – is a significant advancement in delivering solutions to various customers within GE Healthcare's install base and bringing us all one step closer to embracing AI as a part of today's standard of care. We will continue to push forward and cooperate with market leaders through extended partnerships and collaborations, increasing the number of global use cases of our AI."
Lunit's original algorithm, Lunit INSIGHT CXR, is designed to provide accurate and instant analysis of chest x-ray images by mapping the location of the findings and displaying the scored calculation of its actual existence. In a COVID-19 setting, Lunit INSIGHT CXR can be useful in quickly identifying high-risk cases as well as monitoring patients' progression and regression of mild respiratory symptoms. The algorithm performs at 97-99% accuracy rate (Area Under the Curve - AUC), and according to studies published in Radiology[2] and JAMA Network Open[3], a physician can see their performance increase up to 20% upon interpreting with the assistance of Lunit's AI.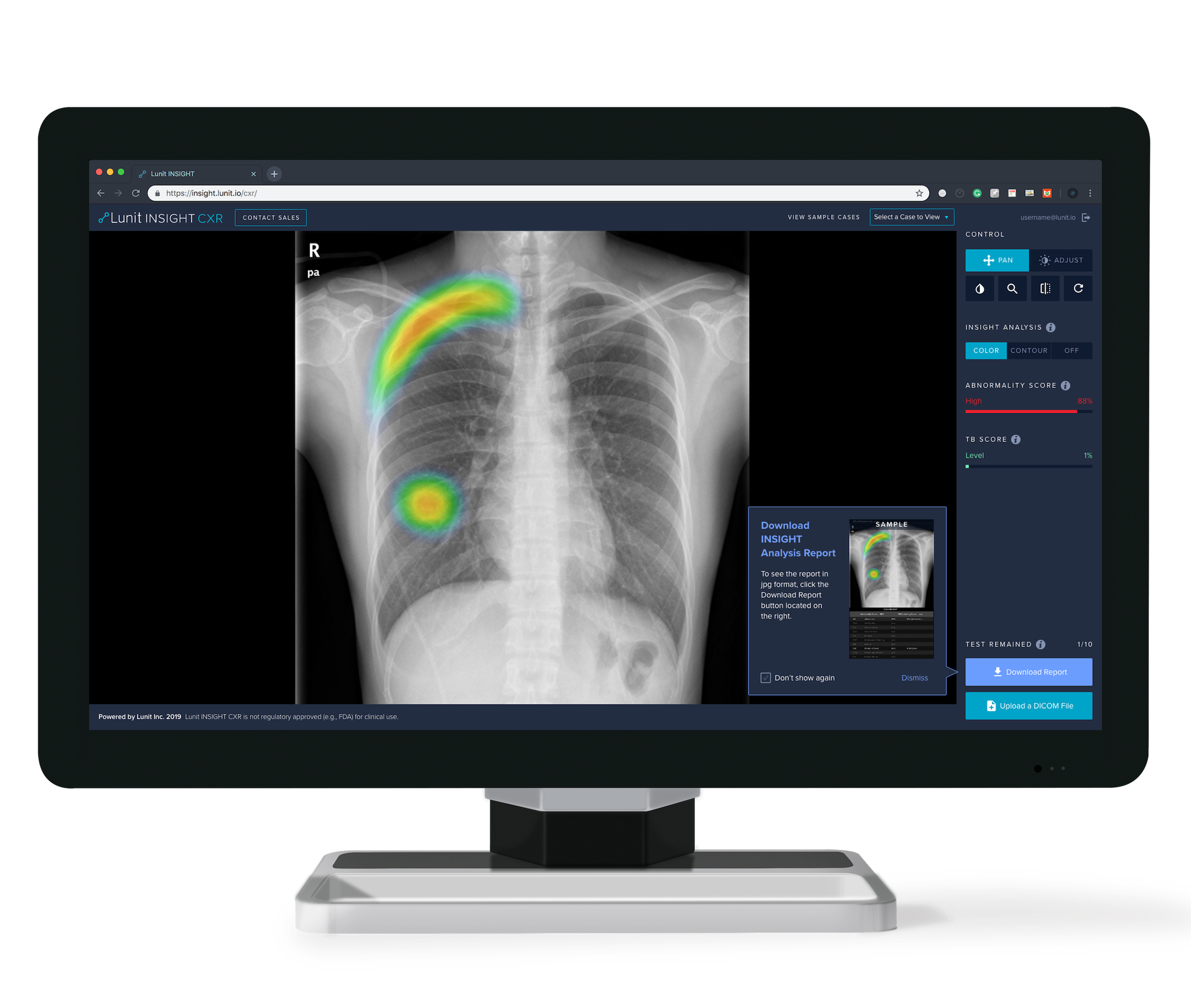 Download

Lunit INSIGHT CXR
"Like Lunit, GE Healthcare is committed to developing and providing AI solutions to help alleviate our customers' most pressing challenges," says Katelyn Nye, General Manager of GE Healthcare mobile x-ray and AI products. "We've watched Lunit's success closely over the past several years and are excited to marry our expertise as a well-established x-ray manufacturer with the nimbleness of a startup like Lunit. We believe that by featuring Lunit INSIGHT CXR as a part of our Thoracic Care Suite we can meet our customer's most pressing needs and expand AI adoption in healthcare."
Lunit is also actively working with GE Healthcare to integrate its AI solutions into GE's Edison Open AI Orchestrator, an algorithm management solution to help physicians and healthcare organizations work more efficiently and effectively. Available via a standalone server or integrated into GE Healthcare's Centricity Picture Archiving and Communication System (PACS) and Enterprise Imaging System (EIS), these algorithms can help clinicians manage chest radiography reading more efficiently, improve clinicians' workflow and provide a more native reading experience. Once complete, this offering will help reduce the complexity of implementing and managing multiple systems and algorithms as well as provide an easy way for organizations to adopt and explore AI.
Additionally, Lunit is an innovator under GE Healthcare's Edison Developer Program, which helps healthcare providers gain easier access to market-ready algorithms and applications – such as Lunit INSIGHT CXR – by directly integrating these technologies into existing workflows. As such, Lunit and GE Healthcare are actively working to deliver novel and targeted deep-learning technology for healthcare systems via Edison, GE Healthcare's secure intelligence platform.
Lunit INSIGHT CXR is CE marked and is commercially available in European Economic Area and UK.
About Lunit
Lunit, abbreviated from "learning unit," is an AI software company devoted to developing advanced medical image analytics and data-driven imaging biomarkers via cutting-edge deep learning technology.
Founded in 2013, Lunit has been internationally acknowledged for its advanced, state-of-the-art technology and its application in medical images. Lunit has been named by CB Insights as one of "AI 100" startups transforming healthcare industry.
Lunit's technology has been recognized at international competitions such as ImageNet (5th place, 2015), TUPAC 2016 (1st place), and Camelyon 2017 (1st place), surpassing top companies like Google, IBM, and Microsoft. Lunit is based in Seoul, South Korea.
About Lunit INSIGHT CXR
Lunit INSIGHT CXR, developed by Lunit, is a state-of-the-art AI solution for chest x-ray analysis, detecting 10 different radiologic findings including lung nodule, consolidation, and more with 97-99% accuracy. Lunit INSIGHT CXR is designed to help radiologists detect more and better, alleviating the burden coming from routine chest x-ray interpretations.
The software has received CE mark and has been featured in major publications such as Radiology, JAMA Network Open, European Radiology, and Clinical Infectious Diseases. As of March 2020, Lunit INSIGHT CXR has analyzed more than three million chest x-ray images from over 80 countries around the world.