Lunit INSIGHT for Mammography delivers instant detection results with 97% accuracy
Current accuracy of screening mammography 32%; high recall cost $4B each year

Lunit's AI solution is expected to save cost greatly and enhance efficiency

First live demo of the product to be held at RSNA Lunit booth, #7561, North Hall

Open for free public trial on the web: https://insight.lunit.io/
Lunit, a leading medical AI software company today announced the release of its newest AI solution to breast cancer—Lunit INSIGHT for Mammography. The company will be showcasing the product for the first time at this year's gathering of Radiological Society North America (RSNA), which is scheduled to be held on 25-30 November at McCormick Place, Chicago.
"While breast cancer takes up 25% of entire cancer cases, the accuracy of screening mammography is low by 32%," said Brandon Suh, CEO of Lunit. "False negative rates range from 10-30% and false positive rates are even higher at around 95%. This costs over 4 billion US dollars for unnecessary recalls in the United States alone."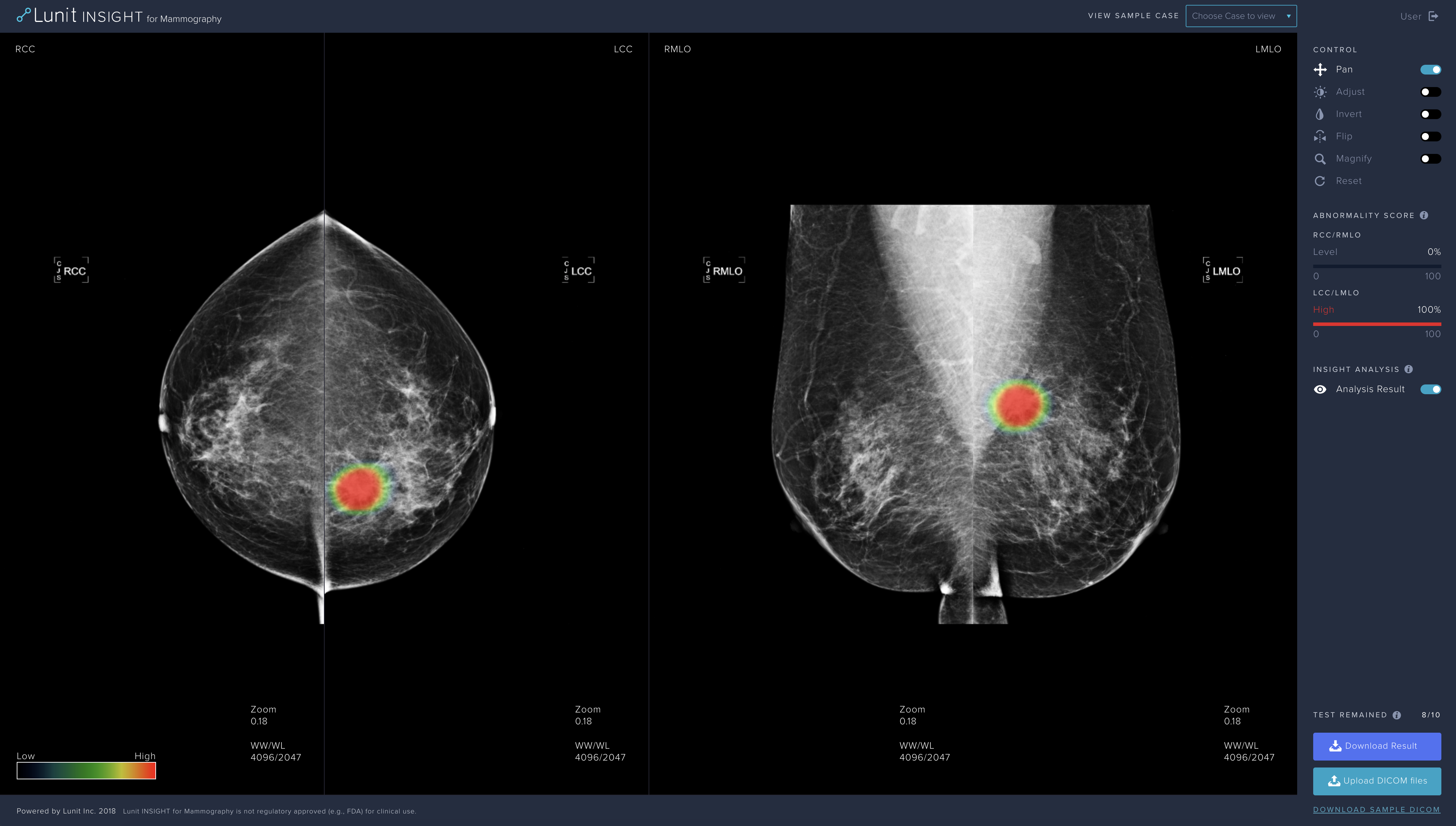 Download

Lunit INSIGHT for Mammography
Higher accuracy can increase efficiency and save cost
Lunit's newest AI software, Lunit INSIGHT for Mammography is designed to solve this problem. It delivers high accuracy of 97% in detecting malignant lesions, which is expected to increase the cancer detection rate of radiologists by 10% when used as a second reader. The company also claims that its AI solution can enable general radiologists to perform at a specialist level, providing solutions to health facilities that experience strains with lack of specialists. It also aims to decrease recall rate and as a result, save medical costs that are being wasted every year.
Lunit INSIGHT for Chest Radiography will also be showcased. Since being launched during last year's RSNA, it has been tested in more than 1.5 million cases from more than 70 countries. Boasting an unprecedented accuracy level of 97-99%, it detects major chest abnormalities including nodules, consolidation, pneumothorax, and etc. The CAD-based solution is also being integrated into the worklist for prioritization, in which positive cases may be read first in order to decrease turnaround time and increase overall reading productivity.
The secret to the high accuracy level comes from Lunit's proprietary AI technology, trained with vast quality medical data. According to Suh, Lunit 's AI has been trained with over 200,000 chest X-ray cases and 200,000 mammogram cases of which 50,000 cases were biopsy-proven malignant cases. The company's AI technology has been acknowledged at international competitions ImageNet (5th place, 2015), TUPAC 2016 (1st place), and Camelyon 2017 (1st place), surpassing top global companies like IBM, Google, and Microsoft.
A third-time exhibitor at RSNA, launching global release of its products
Since its first attendance at RSNA back in 2016, this is their third year as an exhibitor. In 2016, the objective was to let the attendees know of its groundbreaking AI technology and research results. In 2017, the company showcased its first software product, Lunit INSIGHT for Chest Radiography. The interest level was high: Lunit was chosen as one of the featured exhibitors and visitors flooded in.
Since last year, the company has gone through major achievements: discussing partnerships with diverse companies and a Korean FDA (Ministry of Food and Drug Safety) approval of its product, Lunit INSIGHT for Chest Nodule Detection, to name a few. Lunit's solutions are currently in process of review for FDA/CE approval, expected to be approved by mid-late 2019.
This year, the company is launching a global release of its products, currently being installed on a pilot project at Mexico and UAE, also scheduled to be used on-site at South Korean hospitals.
At RSNA this year, Lunit's researchers will be presenting six abstracts, and Suh will be on stage at Machine Learning Theater to provide an overview of Lunit's recent achievements and future developments.